1/3 oz of Grand Marnier (or orange liqueur)
1/3 oz of Irish cream
1/3 oz of Kahlua coffee liqueur (or coffee liqueur)

Layer ingredients carefully, in the following order: First Kahlua, then Baileys, then Grand Marnier. Use pousse cafe glass so each ingredient floats on the preceding one. Do not mix.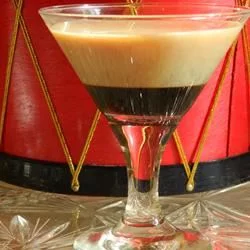 Community Reviews:
- I didn't make them as a shot, but made a bunch in a pitcher as a Thanksgiving "dessert" even though I think we finished them off before dinner...very smooth. No matter how hard I tried I couldn't layer them so I gave up and just mixed it.